Mayim Bialik From Big Bang Reveals Her Eating Disorder
Mayim Bialik discusses her struggle with eating disorders for the first time.
Who Is Mayim Bialik ?
Mayim Chaya Bialik (born December 12, 1975) is a neuroscientist, poet, and actress from the United States. She starred as the title character in the NBC sitcom Blossom from 1991 to 1995.
From 2010 to 2019, she portrayed neuroscientist Amy Farrah Fowler on the CBS sitcom The Big Bang Theory.
Bialik was nominated four times for a Primetime Emmy Award for Outstanding Supporting Actress in a Comedy Series for her role as Fowler, and she received the Critics' Choice Television Award for Best Supporting Actress in a Comedy Series in 2015 and 2016.
Mayim Bialik "The Big Bang Theory Star" Reveals Her Eating Disorder Battle
During a new episode of her podcast "Mayim Bialik's Breakdown," the 45-year-old "Big Bang Theory" alum admitted she's been in anorexia rehab for the last two years.
"This is the first time I've ever discussed it, because people still ask, "Well, why you're so overweight ?" Well, since I'm a compulsive overeater as well as an anorexic and restricter, "Bialik said during a conversation with author/activist Glennon Doyle.
Avoidant Restrictive Food Consumption Disorder (ARFID), according to the National Eating Disorders Association, is "similar to anorexia in that both disorders require restrictions in the volume and/or types of food eaten." Binge eating is described as "eating huge amounts of food (often very quickly and to the point of discomfort)."
"I eat so much when no one is looking," Bialik admitted, later adding, "I eat so I don't have to feel something."
Mayim Bialik discusses how her mental wellbeing podcast supports COVID anxiety sufferers.
Because of Doyle's devotion to living authentically, Bialik felt inspired to express her truth for the first time. Doyle, the author of "Untamed: Stop Pleasing, Start Living," has been candid about her own battles with bulimia and addiction.
"I just feel motivated to do that because of her," Bialik told her boyfriend and co-host Jonathan Cohen. "I've been aware of my issues for years, and I've been in rehab for two years."
The star of Fox's "Call Me Kat" said that one of her "short-term 2021 goals" is to let go of society's unrealistic beauty expectations, which are exacerbated and scrutinized in Hollywood. (One person once told Bialik she was "brave for being in a movie 30 pounds over my average weight," she explained.)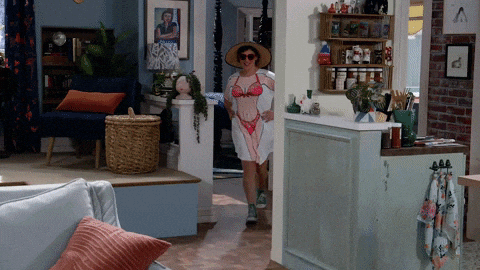 "I'm trying to let go of the weight of being 15 pounds lighter, which is what I quote, 'should be,' according to Hollywood standards," Bialik said. "I'm attempting to relieve the burden of caring that I'm wearing clothes that make me look like those other people, despite the fact that I'm not those other women."
She went on to say: "When am I going to be able to wear all black without having a stylist say, 'We need you in more color?' It's like, how about I wear black because it makes me feel the best and I like it, and they make a lot of cool black clothes?"
"Mayim Bialik's Breakdown" is a new weekly mental-health podcast she launched on Spotify in January that incorporates discussion of issues like depression, loneliness, addiction, and PTSD with Bialik's insights on the brain, nervous system, and their relationship to emotions. (She obtained her Ph.D. in neuroscience from UCLA in 2007.)
An eating disorder will affect 30 million people in the United States at some stage in their lives, and the pandemic has posed significant obstacles for people coping with or recovering from them, such as interrupted habits and increased isolation.
If you or someone you know is dealing with body image or eating issues, call or text the National Eating Disorders Association's toll-free and confidential helpline at 1-800-931-2237 or send a click-to-chat message to nationaleatingdisorders.org/helpline. Send "NEDA" to 741-741 to report a crisis 7/24.